Here at Cochrane Toyota, we want to make sure that you know everything you need to about getting your oil changed. If you don't see your question below, please don't hesitate to ask one of our Service Advisors!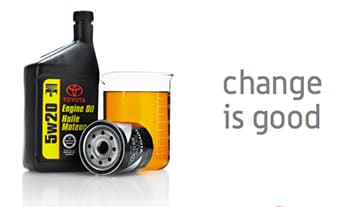 Why should I have Cochrane Toyota perform my oil change?
Convenience & Price! We offer easy and convenient appointment times with a relaxing and comfortable waiting area. You can book your appointment online with our Online booking portal, we have a children's play area, Free WiFi and gourmet coffee and tea at our Tundra Café. We use only Genuine Motor Oil and Genuine Toyota Parts, our technicians have the skills and training to be able to service all makes and models, providing top quality oil changes to all vehicles. Rest assured you're getting a quality service for a great price!
How long will my oil change take?
We understand that the last thing you want to do is wait around all day to have your vehicle's oil changed. We schedule while you wait appointments so you and your vehicle can be in and out with a complimentary car wash between 40-50 minutes. If you're in a rush take a rain cheque on wash, we will give you a voucher for a complimentary wash and come back another day. We also offer a complimentary Shuttle service to get you back home or to the office.
How much does an Oil change cost?
We offer competitive prices on all of our oil change services. We are constantly checking our competitors' prices and offer oil changes at market price or better. Please check our maintenance menu for pricing.
What is included in an oil change at Cochrane Toyota?
On top of the oil and filter change we are proud to include a 15 point visual inspection which includes;
Top up of under hood fluids
Adjustment of tire pressures
Checking tire tread depth
Visual inspection of all drive belts, hoses and exterior lights
Check of engine air filter
Lubrication of the hinges, locks and latches
Complimentary wheel alignment check
Courtesy car wash
My vehicle uses conventional motor oil, but I'm thinking about switching to synthetic motor oil. Can I do this?
Yes, as long as the synthetic oil is the same viscosity (weight) as the recommended conventional oil, and meets or exceeds the oil grade. However, the oil change interval will still remain every 8,000 kms or 6-months even if using synthetic oil.